Nominating a site for inclusion on the York Local List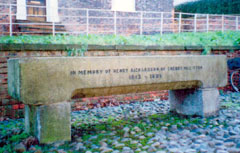 Horse Trough, Bishopgate St
(view list entry)
Nominations for the List will continue to be accepted by the York Open Planning Forum, strictly on the understanding that they are provisional until the draft List is formally adopted by the Council and that they will have to be assessed against a set of Criteria yet to be agreed.
Download a Nomination Form in PDF or Word format.
It is important this form is used to put forward a building, structure or place because it asks for the information needed to include an item on the List - about why the building or structure or place is important, where it is, how old it is, and so on. A contact for the person putting the suggestion forward is requested because sometimes it is necessary to check on details of the information.
YOPF invites support for the Local List as nominations will only have validity if they are supported by the local community. Please send your nominations to the address on the Contact Us page.
What sort of buildings may qualify?
All kinds of buildings or structures may qualify so long as they are not nationally listed. They will be valued by the local community and could act as the focus for Ward and community improvement schemes. For example:
You can also download and view the draft policies and criteria document (.rtf file).
To search for nationally listed buildings near you, and to find out more about the national register of listed buildings, visit the Heritage Gateway website.