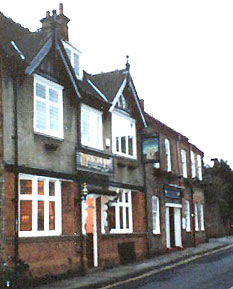 The Minster Inn (view list entry)
About the Local List for York
What is a Local List?
A Local List is made up of buildings and structures or places regarded by local people as being important to their environment, either because they are visually significant in the local scene or because they are associated with notable local people or historical events. Local List entries will not be eligible to be included on the Statutory List of Buildings of Architectural or Historical Interest.
What does it mean if a building or structure is 'locally listed'?
Buildings on a Local List do not enjoy the same protection as Statutorily listed buildings and at present there is no power for local authorities to prevent demolition of locally listed buildings unless they are in a conservation area. The government has indicated however that if a Local List is supported by a Policy in the Local Plan it can add weight to arguments for the protection of listed items when planning applications are considered.
The Heritage Protection White Paper, published in March 2007, endorses and recommends the production of Local Lists, indicating that "local designation provides a means for local communities to identify and to protect the buildings, sites and spaces that matter to them. It helps to build a sense of local identity and distinctiveness, a sense of history, place and belonging".
The Development Control Local Plan for York of 2005 contains a commitment by the Council to "develop and approve policy which will be supported by Supplementary Planning Guidance for a Local List". The commitment has been carried forward into the evolving Core Issues document of the Local Development Framework which will eventually replace the Local Plan.
The Process so far
The process of compiling a Local List for York began in 2005, following the demolition of Burton Croft despite the strong objections of local people. Burton Croft was the family home of John Bowes Morrell, a notable benefactor of York, but not a figure deemed of sufficient national importance to preserve the building through the statutory listing system.
So far, nominations have been collected by York Open Planning Forum (YOPF) from Parish Councils, Ward Committees and various local and community groups such as Village Design Statement groups and local history societies. All applications accepted so far have been considered against proposed criteria (which you can read as an .rtf file here), which have been drawn up by YOPF but must be assessed again once the Local List criteria and policies have been agreed by the Council.
The draft List has now reached the point where it is ready to be handed over to the Council. The Council's progress towards adopting it over however has been slow owing to a lack of staff resources, specifically for drawing up sets of Criteria and Policies to put it into effect. In March 2008, the Council published the first document towards compiling the list of sites to be allocated for specific uses under the new planning process, the Local Development Framework. YOPF believe the draft Local List should be a base document in this process and have taken the decision to publish the draft List on its own behalf on a website specially designed for the purpose.
The list is by no means a finished article. There are many properties in the list on which we would welcome more information. YOPF also continues to accept nominations to the list. Read more on how to nominate a site for inclusion on the list. YOPF invites support for the Local List as nominations will only have validity if they are supported by the local community.
Ongoing work
The York Open Planning Forum is glad to receive more information about the history of sites on the Local List. In particular we are calling for information on the below sites:
Part of St. Leonard's Hospice, Tadcaster Road
No 1 Railway View, Railway View
Old off licence, Ambrose Street
Holly Croft, 20 Wenlock Terr.
Terrace houses, Carleton Street & Carlisle Street
Carlton Tavern, York Road
Lord Nelson Public House, Main Street
The old Vicarage, Church Lane
Cart shed, Pond, Wildlife area, Church Lane
The Jubilee, Balfour Street
Blue Beck House
Verandah Cottages